Become a Vendor
Summer 2018 Applications are open and will be considered throughout the summer season!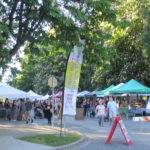 Thank you for your interest in becoming a New West Farmers Market vendor! Before applying as a vendor please carefully review our 2018 Summer Market Guidelines and ensure you understand our mission.
Questions may be directed to jennifer@newwestfarmers.ca or 778-928-7236. Please note an application does not guarantee a spot. You will be sent confirmation of your dates and instructions on prepayment if you are accepted as an NWFM vendor.
We thank all interested applicants and look forward to speaking with you soon!